GP Profile: Investindustrial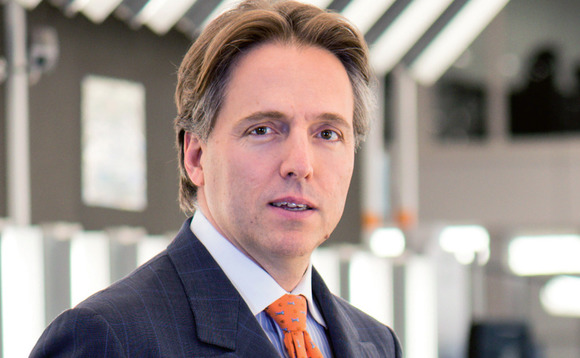 €865m build-up vehicle raised to acquire Fund IV's portfolio
Fund VI is 15% invested to date
Recent exit, Goldcar, reaped IRR in excess of 25%
Investindustrial recently launched its second build-up fund to stretch the life cycle of its Fund IV portfolio. Amedeo Goria talks to the firm's founder Andrea Bonomi about flexibility in portfolio management and future challenges
Investindustrial's founder and managing principal Andrea Bonomi says he expects some GPs to tweak the classic closed-ended fund structure over the next couple of years towards more flexible investment vehicles, in order to help them navigate market unpredictability. "Some changes have already happened upstream, with LPs' increasing appetite for co-investments and more non-private equity actors coming into the market," Bonomi says. "We work closely with our investors to make sure the industrial logic of a deal and the return comes before fund structuring."
The GP launched its first build-up fund in 2009 in the midst of the financial crisis; a €100m vehicle that provided additional capital for the 2005-vintage €500m Fund III, which reaped a net IRR in excess of 25%. More recently, the firm launched its second build-up vehicle, a €865m five-year fund that acquired the remaining four portfolio companies of the Investindustrial IV for €750m and retained some additional capital mainly dedicated to follow-on investments for the theme park PortAventura.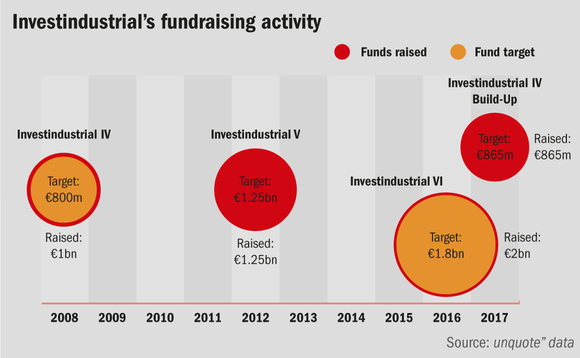 Aside from PortAventura, fund IV's portfolio included two Italian companies, Snai and Perfume Holding, as well as Spanish healthcare transportation business Emeru. Of these companies, the theme park is the largest asset, with a €500m EV and €95m of EBITDA generated in 2016. The business has tripled its value during Investindustrial's tenure, unquote" understands. Notably, it is also understood that Fund IV reaped an IRR in excess of 25% following the sale of the whole portfolio.
A source familiar with the matter tells unquote" that, at the time of the launch of Investindustrial's second build-up vehicle, 55% of Fund IV's LPs rolled over into the new fund at varying percentages of their original commitments. Additionally, the GP reaped €150m of commitments from Dutch funds-of-funds manager Alpinvest Partners alongside other co-investors. According to the source, the fund offered a more attractive fee-carry balance compared to Fund IV and is currently 90% deployed.
The GP is aiming to profit from a longer holding period for its portfolio companies, the source said. It maintains that in such cases LPs can also benefit from avoiding transaction costs. To overcome the challenge of pricing within an internal portfolio acquisition, it is understood Investindustrial valued the assets via a competitive auction-type process between Alpinvest and other institutional investors.
Exploring new paths
Alongside new strategies on a fund level, Investindustrial is also working on new implementation strategies at a portfolio level. According to Bonomi, the global spread of political instability and technological disruption have impacted most market sectors and additional efforts are required to deliver better returns. To manage this, the firm launched a New York-based team focused on digitalisation and business development in November 2016, hiring senior principal Michael Karangelen, formerly managing director of TowerBrook Capital Partners. In his new role, Karangelen will support principal Carlo Privitera and the local deal-sourcing team to lead digitalisation and the expansion of portfolio companies across the US.
In the wake of this technological disruption, Bonomi says: "Fund managers need to rearrange the growth strategies for their buy-and-build platforms. Today, no one can stay still. Follow-ons became crucial as a strategy to create value. At the time of Fund I, we reserved up to 5% of commitments for follow-on acquisitions, but now we dedicate 20% of the capital raised from our current fund."
The firm is currently investing from its €2bn sixth buyout vehicle. The fund made its first acquisition in April 2016, co-investing with its predecessor Fund V in the MBO of Italian childcare products group Artsana, a deal reportedly valued at €1.23bn. Fund VI is now 15% invested but the GP expects to close two additional transactions by the end of the year, unquote" understands.
Notably, Fund VI is part of a €3bn investment programme, which includes €1bn of expected co-investments, explains Bonomi. "This means €600m of capital is dedicated to follow-ons across the lower mid-market for our platforms," he says.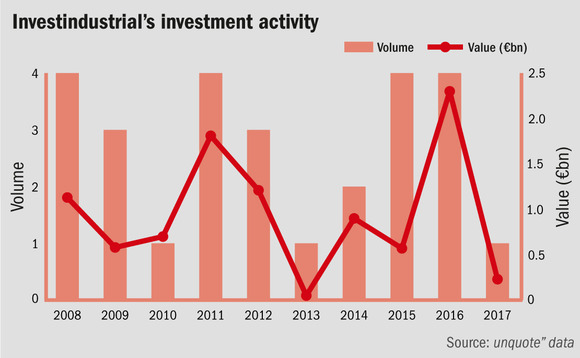 "The requirements of executing this type of strategy is the reason why we have 100 people in our team," explains Bonomi. "This means more acquisitions but fewer platform deals at fund level; an investment strategy that can only be executed by private equity firms that are organised accordingly." Investindustrial dedicates a team of four people to each of the 11 portfolio companies, with the aim being to focus on corporate advisory and M&A activity.
Against the aforementioned backdrop of political instability and technological disruption, a private equity fund manager needs to implement a greater degree of risk management in order to increase returns. "Such events are difficult to forecast and assess in time and depth," says Bonomi. "But we are [factoring in] a recession in all our business plans, even if this makes us less competitive."
On the exit side, the GP most recently sold Alicante-based car rental service Goldcar to France-based corporate Europcar Group, backed by Eurazeo. According to a statement, the deal was based on a €550m EV for the target company, equating to a 7x multiple of post-synergy-adjusted EBITDA. The deal reaped an IRR in excess of 25% for its fifth fund, unquote" understands.
Key People
• Andrea Bonomi, managing principal, founded Investindustrial in 1990. Prior to that, Bonomi spent five years working at his family's investment group, BI Invest. He started his career as an investment banker at Lazard.
• Carl Nauckhoff, senior principal, joined Investindustrial in 2009 from Garrison Investment Group, where he was managing director. Prior to that, he was a partner at MVision Private Equity Advisory from 2002-2007, and between 2000-2002 he worked as an analyst at Lehman Brothers, focusing on M&A.
• Michael Karangelen, CEO at the firm's US subsidiary, joined Investindustrial's New York office from TowerBrook Capital Partners, where he worked as managing director from 2006-2016. Prior to that, he was partner at Brera Capital Partners since 1999.
Back to Top