Register for the Private Debt Secondaries virtual event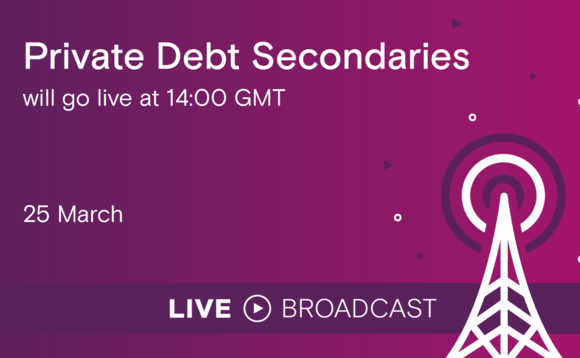 Tune in to listen to leading industry participants as they discuss the outlook for private debt secondaries on Thursday 25 March at 2pm GMT.
Despite severe disruption to secondaries deal-making caused by the Covid-19 pandemic, the private equity (PE) secondaries market has seen a rapid growth in transaction volumes and values to become an established market in recent years.
Similarly, the primary private debt (PD) market has expanded greatly over the last decade as fund managers capitalised on the direct lending trend. A number of these first-generation direct-lending vehicles are now approaching maturity and there is much talk of them providing fuel for the growing secondaries market.
Although still representing a relatively small corner of the market in comparison to the more mature PE secondaries, PD secondaries are well-positioned to see a similar level of expansion.
This panel will explore the expansion of the private debt secondaries market, including the key drivers such as active portfolio management by LPs looking to rebalance their portfolios, and the likely rise in GP-led restructurings following coronavirus-related market dislocation.
Speakers will include:
Toni Vainio – partner, Pantheon
Olga Kosters – head of private debt secondaries, Tikehau Capital
Jeff Hammer – global co-head of secondaries & private markets, Manulife Investment Management
Daniel Roddick – partner, Ely Place Partners
Arthur Penn – founder & managing partner, PennantPark
John Anderson – international counsel, Debevoise & Plimpton
Find out more information on all the events in the series here, including our other upcoming discussions on Growth Equity on April 22nd.
About Private Markets+
The Private Markets+ platform is a personalised members portal for our network of LPs and GPs within the private debt, infrastructure and private equity asset classes, supported by our AVCJ, Debtwire, Creditflux, Unquote and Inframation brands.
The site gives our members access to industry-focused reports, data, and surveys produced by us and our partners, which will help inform investment strategy for investors and funds, and raise brand awareness for our clients.
As part of the platform, members are able to access our virtual events, with other LPs and GPs logging in to get proprietary insight and updates from our speakers.
Back to Top