Q1 Barometer: Year of sustained growth finally halted in Q1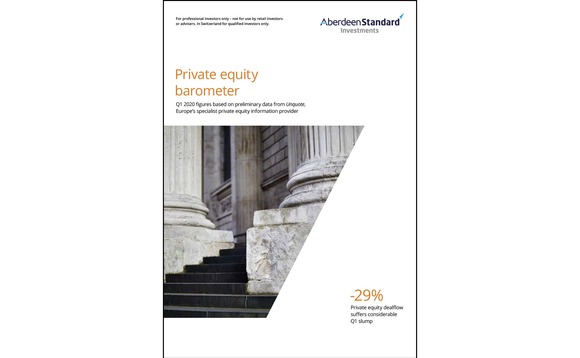 The latest issue of the Unquote Private Equity Barometer, covering Q1 statistics as well as commentary on the evolution of the market since then in the wave of the Covid-19 crisis, is now available to download
The European private equity market cooled in Q1, after an especially active Q4 2019. The fact that March soon became a write-off for new deals in many countries due to the rapid escalation of the Covid-19 crisis obviously made a significant dent in the quarterly figures.
Dealflow significantly slowed, falling from 872 to 702 deals in Q1. Deal volume had been gradually increasing since the beginning of 2019 but failed to continue its upward trend in Q1 2020. Meanwhile, total deal value came in at €69.3bn. It was slightly up on Q4, posting its third highest figure in the last decade.
Q4 aggregate value was boosted mostly by a 27% growth in the number of large-cap buyout deals, which also helped to offset a fall in the value of small- and mid-cap buyout investments in Q1.
The number of buyouts dropped to 223 from 304, while growth capital deal volume fell from a 10-year high, dipping to 369 from 432. Early-stage dealflow also lost its momentum in Q1 as deal volume declined from 135 (its highest figure on record) to 110. On the other hand, the aggregate deal value of buyout investments went up 6% in Q1, hitting €59.8bn, its third highest level over the 10-quarter period.
The very few silver linings apparent in Q1 statistics are unlikely to be sustained in subsequent quarters, though. In the short term it seems fair to assume that the impact of the coronavirus crisis on the market – especially in terms of buyout activity – is only just beginning. Although some of the hardest hit regions are now cautiously looking at easing some of the more punishing restrictions, buyout dealflow will fall further in Q2 and most likely in Q3 as well.
To view the report in full, click here
Back to Top