Q2 Barometer: Coronavirus ravages European M&A market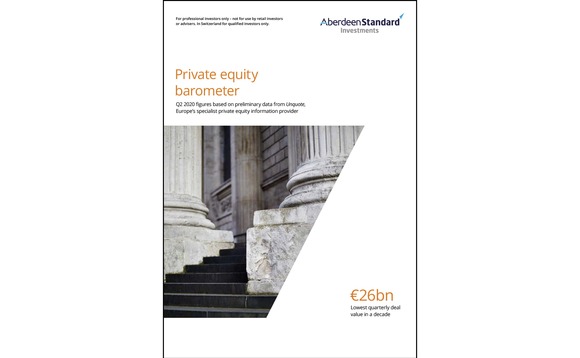 The latest issue of the Unquote Private Equity Barometer, which charts the unfolding impact of the Covid-19 crisis on Q2 statistics, is now available to download
After first impacting the deal-doing environment in March, the effects of the Covid-19 crisis on European private equity became much more pronounced over the course of Q2, with dealflow slowing sharply from 827 in Q1 to 714 deals.
As the crisis had a disproportionate impact on larger M&A processes, the effect on aggregated deal value was even more drastic: overall, deals worth just €26.1bn were recorded, down from €70.9bn in Q1 and representing a 20-quarter low. The main driver behind this was a steep fall in large-cap buyout deal value, which plunged to €5.4bn from €43.4bn in Q1.
Although deal numbers fell sharply in the buyout market (down 37% to 151), activity in the growth capital and early-stage segments was less severely affected. Early-stage dealflow in particular put in a decent performance in Q2, staying in line with Q1 and posting its highest figure in the last 10 years at 156.
Almost all regions saw a sharp decline in activity, with the UK and France being the hardest hit. Interestingly, of the main PE markets, the DACH region suffered the least, arguably helped by a robust crisis response from governments and an early return to business.
However, despite the numbers, the message coming out of the market is not one of doom and gloom, according to Merrick McKay, head of European private equity at Aberdeen Standard Investments: "The sense of the market we are receiving from many managers is one of cautious optimism. From the end of the first quarter onwards, general partners acted quickly to ensure their portfolios were positioned to weather medium-term economic turbulence. There is still a lot of cash to be deployed and lenders are increasingly looking to lend to good businesses. Indeed, certain sectors – such as financial services, technology and healthcare – are seeing heightened investor appetite. There has been no obvious negative impact on pricing for investments in these sectors, given attractive market and business model dynamics in an uncertain world."
Also, as McKay notes, while it is inevitable that European private equity activity will be significantly down this year, the best managers have continued to raise funds at their hard-caps, despite many investors' reduced allocations and the challenges of undertaking diligence remotely.
Click here to download the full Q2 Private Equity Barometer
Back to Top