Multiples Heatmap: average pricing hits 11x in busy Q4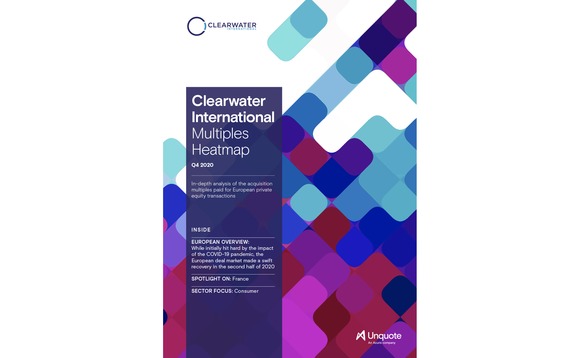 A busy buyout market firmly focused on top-flight assets resulted in average entry multiples continuing their upward march in Q4, according to the latest Clearwater Multiples Heatmap.
European PE volume rebounded quickly following the initial shock of the pandemic, with a robust Q3 performance followed by a record number of deals in the final quarter of the year.
This renewed activity served to push up valuations across the continent – particularly within the highly sought-after TMT and financial services sectors – as PE firms looked to deploy cash held back during the crisis. At 11x, average multiples paid in PE-backed transactions across Europe reached a new high in the final quarter of the year.
The Nordic region recorded the highest valuations across Europe, with average multiples jumping to nearly 12x in the fourth quarter. This is the largest quarter-on-quarter increase across Europe.
With multiples exceeding 11x for the first time, the DACH region also set a new regional record, while achieving the second highest multiples across Europe in Q4. In line with the European trend, deal volume registered an uptick compared to Q3, finishing the year 14% above Q4 2019.
Sector-wise, the TMT space has proven resilient to the Covid-19 pandemic, continuing to attract interest from PE buyers during an uncertain year. Reflecting the growing popularity of TMT assets, the sector was host to the largest number of PE-backed transactions for the fourth quarter in a row. Deal volume within the sector shot up 35% compared to Q3. Increased activity is pushing up valuations, which recovered throughout the year to reach 11.8x in the final quarter.
Click here to download the Q4 Multiples Heatmap report, including:
Detailed breakdowns of pricing and activity trends for Q4 2020
Quarterly pricing movements throughout 2020
Qualitative deep-dives on the French market and the consumer sector
Back to Top