Q4 Barometer: How European activity returned to pre-pandemic level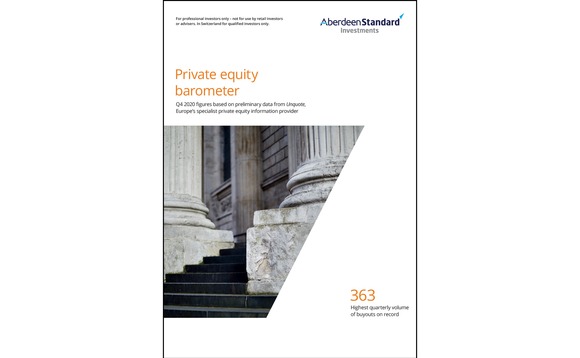 Q4's enterprise value total highlights a clear return to pre-Covid levels of European private equity deal-making, according to the latest Unquote Private Equity Barometer, produced in association with Aberdeen Standard Investments.
Click here to download the full Q4 Private Equity Barometer
European PE deal value staged an impressive recovery over the course of 2020. While initially hit hard by the pandemic, deal value quickly rallied to reach €69.2bn in the final quarter. Standing just marginally behind Q1's value of €71.2bn, Q4's performance highlights a clear return to pre-Covid levels of activity.
The recovery in deal value can largely be attributed to a sharp increase in buyout activity. Sponsors continued to close deals despite ongoing Covid-19 uncertainty, with 363 buyouts completed in Q4 – the highest quarterly volume on record. Mid-market buyout deals witnessed significant growth in the fourth quarter, with value more than doubling to €27.3bn.
While deal volume dipped slightly in the fourth quarter – registering 21 fewer deals than Q3 – the consistent growth in value, combined with an improving macroeconomic outlook, suggest deal activity is set to ramp up over the coming months.
Merrick McKay, Aberdeen Standard Investments' head of European private equity, anticipates robust investment activity: "While the dynamics underpinning buoyant stock markets continue, combined with high levels of dry powder, we expect to see European PE practitioners maintain continued confidence in their ability to deploy capital in their chosen sectors. Given elevated pricing and the multiple challenges of undertaking diligence in this environment, it remains to be seen whether returns from this vintage are as strong as those in the recent past."
Back to Top