Polish buyouts keep CEE afloat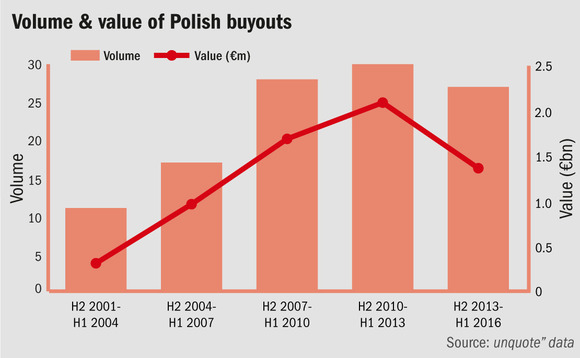 The buyout market in Poland has developed steadily over the last 15 years, emerging as the largest in the CEE region. Vidur Sachdeva reports
The only EU country to have successfully avoided a recession during the 2008 global financial crisis, Poland is often cited as the most dynamic economy in the CEE region. Massive economic and political transformations that began after the fall of the Communist Bloc opened the doors to phenomenal levels of GDP growth as state control was replaced by widespread privatisation, so much so that it stands as the ninth largest economy in the EU today.
Its success story is well reflected in the latest analysis from unquote" data. The figures reveal an upbeat snapshot of how the Polish industry has evolved over the last 15 years. Almost every successive three-year period since H2 2001 has seen progressively higher levels of dealflow. During this time, annual deal volume increased 145% from 11 to 54 buyouts, while aggregate value improved more than four-fold from €308m to €1.4bn.
The story is even more impressive when Poland is compared to its CEE peers. The 10 years to H1 2016 saw the Polish buyout industry remain stable even as the rest of CEE saw nearly half of its buyout volume evaporate. In fact, during these last 10 years, Poland was not only home to nearly four out of every 10 buyouts in the region, but also accounted for 55% more acquisitions than the next largest CEE country (Turkey, with 55 deals).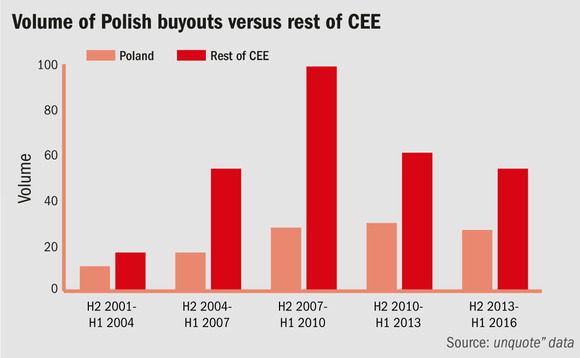 Analysing the data, the consumer sector has been the main driver of this resilience and is responsible for the lion's share of the uptick. Compared to the three years to H1 2004, the three years to H1 2016 saw the number of buyouts in the consumer sector more than quadruple. This growth reflects the country's strong macroeconomic performance and the expanding middle class in the EU's sixth most populous state.
In terms of vendor types, family or private owners led the way, accounting for 39.8% of all buyouts during these 15 years. Trade vendors and institutional investors accounted for another 26.5% and 17.7% after being home to 30 and 20 transactions respectively. In other words, these three vendor types accounted for well over eight out of every 10 buyouts from H2 2001 to H1 2016.
The following were the top five buyouts – with a disclosed value – during this time period:
5. HTL-Strefa – October 2009; c€210m
EQT announced in 2009 a public tender offer to wholly acquire HTL-Strefa, a manufacturer of safety and personal lancets for capillary blood sampling. The price offered for the shares was PLN 13.71 per share, a premium of 11.2% compared to the three-month period directly preceding the date of announcement, and a 2.7% premium relative to the last closing price of PLN 13.35. The net purchase price was PLN 885.6m.
4. Agros Nova – June 2010; €243m
IK Investment Partners acquired a 99% stake in food products producer and seller Agros Nova from its owners ITR Investment Partners in the summer of 2010. No further details regarding the sale were disclosed. Agros Nova operates in three business segments, comprising fruit and vegetable preserves, ready-made food and non-carbonated beverages. This was IK's second acquisition in Poland, following the buyout of railway components manufacturer Axtone in 2008.
3. Smyk – January 2016; €247m
Bridgepoint acquired Polish children's apparel and toy retailer Smyk in a €247m deal from former owner Empik Media & Fashion. The acquirer invested via its fifth fund, which closed on €4bn in March 2015. Bank debt for the deal was supplied by Pekao. As part of the deal, Polish GP Cornerstone Partners took a minority stake in the company. It is understood Bridgepoint aimed to support Smyk's growth through further store roll-outs, boosting its multi-channel offering and expanding its franchise and wholesale operations. According to Bridgepoint, the children's products market in CEE was expected to grow by 5% per year.
2. Zabka Polska – February 2011; €370m
Mid Europa Partners paid €370m for Polish grocery store operator Zabka Polska in 2011, fending off competition from Tesco and BC Partners. The purchase price corresponded to a 10.5x EBITDA multiple based on 2010 Q4 figures.
1. Emitel – March 2011; €429m
Montagu Private Equity bought Polish terrestrial TV and radio broadcast infrastructure operator Emitel for PLN 1.7bn (approximately €428.9m) from Telekomunikacja Polska Group in 2011. Innova Capital, SGAM Alternative Investments and the European Bank for Reconstruction and Development also participated in the transaction. The private equity investor planned to support the company in its next phase of development as an independent operator of broadcasting and telecoms infrastructure.
Back to Top