Southern Europe bounces back amid pandemic uncertainty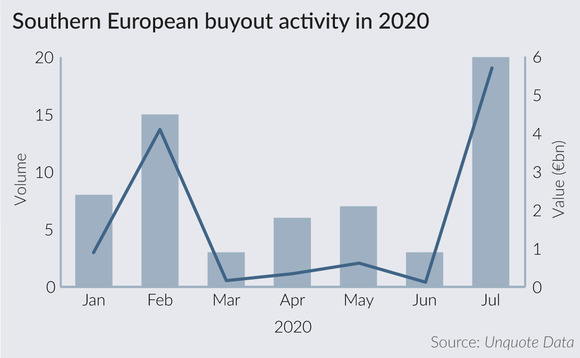 Following an intense slowdown in dealflow and fundraising, the southern European private equity industry has regained vigour and confidence in July and is set for a more dynamic second half of the year. Alessia Argentieri reports
Since the outbreak of the pandemic at the end of February, uncertainty has paralysed the southern European market, resulting in a severe decrease in deal volume and a substantial reduction in value during the first six months of the year.
According to Unquote Data, the region recorded 42 buyouts in H1 2020, for a combined enterprise value of €6.3bn – a significant decrease after the 105 buyouts worth €13.5bn inked in the previous semester.
The decrease is equally significant if compared to previous years' H1 figures, which were considerably higher: 76 deals worth €12.8bn were inked in the first semester of 2019; 74 buyouts worth €15bn in H1 2018; and 74 for an EV of €12.2bn in H1 2017.
Clearwater International partner Miquel Martí says: "The pandemic has caused delays in activity, especially in deal origination and auction sales, slowing down the positive momentum that we had seen in 2019 and at the beginning of this year."
The southern European private equity industry had started 2020 at a very good pace, activity was strong and dealflow was rich in the first two months of the year. According to Unquote Data, the region saw 23 buyouts worth a combined EV of €5bn in January and February 2020, more than double the €2.1bn recorded across 22 deals in the first two months of 2019.
Subsequently, when the pandemic began to spread around the region, deals activity collapsed and southern Europe recorded one of the worst months on record, with only three buyouts worth an aggregate €165m in March.
However, with infection and death rates decreasing in Italy and Spain, and the reopening of factories and commercial activities, the recovery has picked up steam. In July, the regional market has recorded levels of activity similar and even higher than previous years, counting 20 buyouts worth an aggregate value of €5.7bn.
"This is not a liquidity crisis," says Fineurop Soditic CEO Eugenio Morpurgo. "The private equity industry has plentiful dry powder to deploy and is regaining confidence in a market badly hit by the pandemic, but rich in attractive opportunities."
Among the most noticeable deals recently inked was BC Partners' investment in Milan-listed company Ima, an Italian manufacturer of packaging machinery, which might lead to a €3.6bn take-private. Meanwhile, Partners Group acquired Portuguese agrichemical business Rovensa in a €1bn SBO from Bridgepoint; and TA Associates bought Surfaces Group from Astorg in a €600m deal.
Looking at the sell side, the region recorded only 42 exits in the first half of 2020, while there were 67 divestments in H1 2019, 56 in H1 2018 and 68 in H1 2017.
"This is not the right time for an exit," says Martí. "Instead of starting negotiations for risky trade sales and uncertain SBOs, most GPs prefer to focus on strengthening their portfolio companies by pursuing an intense buy-and-build strategy."
Fundraising challenges
The pandemic has certainly affected fund activity in southern Europe, causing disruption and delays in numerous fundraising processes. Several GPs reported that discussions with LPs were put on hold, while fundraising continued albeit at a slower pace, resulting in the postponement of their final closes.
Across the region, nine vehicles held a final close in the first semester of the year, raising only €1.3bn. By comparison, 13 funds closed in H1 2019, with combined capital of €3.2bn, and 10 reached their final closings in H1 2018, collecting €3bn on aggregate.
GPF Capital's third buyout fund, GPF Capital Partnership III, was among the vehicles that were able to close in the first half of the year. The fund hit its €300m target, doubling the size of its predecessor, a €150m vehicle closed in 2018. GPF Capital Partnership III provides equity tickets of at least €15m and targets SMEs generating EBITDA in excess of €3m and revenues of up to €100m.
In the venture segment, Programma 102, a fund managed by Italian VC house P101, held a €100m final close in June 2020. The fund invests in European digital and technology startups offering B2C and B2B services to the food, fashion, design, education, healthcare, logistics, travel and financial industries.
The region also recorded eight first closes in H1 2020, a sign that despite uncertainty spread by the pandemic, the market is still dynamic, and capable of raising capital and attracting local and international LPs, especially for well-established private equity houses.
Among others, MCH held a €200m first close for MCH Iberian Capital V, which deploys equity tickets in the €20-50m range. The fund was launched in 2019 with a €400m target to invest in mid-sized companies headquartered in the Iberian peninsula, generating EBITDA of €5-15m.
The market also saw a proliferation of vehicles specifically engineered to support the recovery of companies hit by the crisis, including several special situations and turnaround funds, such as Sherpa Special Situations III, which held a €120m final close. The fund targets companies in distress following the economic crisis triggered by the pandemic or as a result of strategic, operational and financial transformations. It plans to make 8-10 investments, writing tickets in the €10-25m range for companies operating across a wide variety of sectors, with turnover of €20-300m.
Looking at the coming months, fundraising activity is forecast to pick up with various GPs holding final closings, including Aksia Capital V, Suma Capital Growth II and GED VI España, while dealflow is expected to become richer.
"The market will be more active, but still challenging in the second half of the year," says Morpurgo. "Subsequently, we expect an extremely positive 2021, when regained clarity on the outlook, abundant liquidity and adjusted business plans will increase investors' confidence and ensure a buoyant dealflow across the industry."
Back to Top