Funds maturing in 2021: what is still in PE and infra portfolios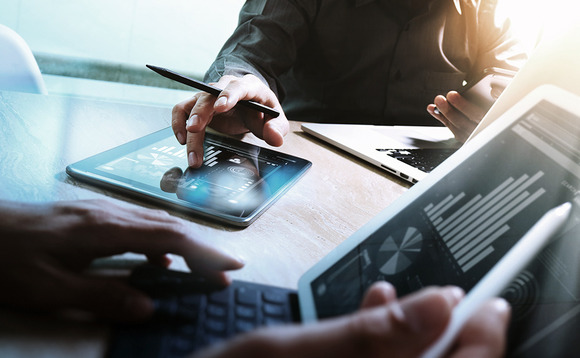 An investigation of more than 150 funds due to mature around 2021 reveals that a number still have assets left to realise, including PE vehicles Lion Capital Partners III and Montagu IV, and infrastructure funds InfraRed and Asper. Greg Gille and Colin Leopold look at seven of the largest funds from the sample
As part of a new series of analysis reports, Unquote and Inframation examined proprietary data on Europe-based private equity and infrastructure funds that are due to mature in and around 2021, to consider secondaries opportunities that may come to market in the coming months.
According to the data, close to 150 Europe-based private equity funds with a 2010 vintage managed to raise around €26.78bn. Unquote assumed a standard 10-year lifespan for the private equity funds, meaning that they reached maturity between 2020 and 2021. Inframation only found seven Europe-based infrastructure funds with a recorded maturity of 2021.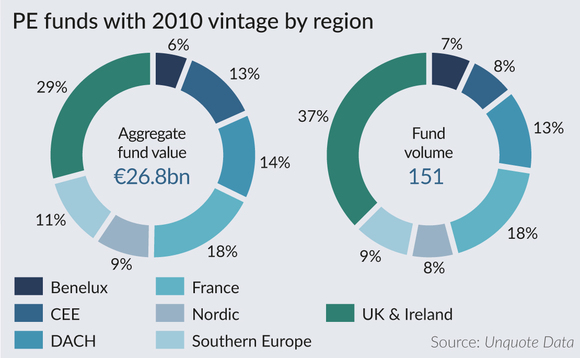 This analysis found that while the boom in PE activity throughout the past decade has afforded GPs with opportunities to both deploy and return capital to LPs quickly, a number of vehicles now reaching maturity still have assets left in their portfolios.
Where's the exit?
PE and infrastructure players have always had a number of options to manage situations where a fund is reaching maturity with one or more assets remaining in the portfolio – the most obvious one being a straightforward fund extension, usually baked into most limited partnership agreements.
But GPs and LPs can also count on a rapidly maturing secondaries market to provide more creative ways to manage end-of-life funds. Even before the coronavirus pandemic, the secondaries market was increasingly being explored by private equity houses as an alternative to a sale process, as reported by Unquote. Many GPs will now go beyond the traditional dual-track options of IPO and M&A sale, and will routinely ask themselves whether a single-asset secondary sale or restructuring constitutes a viable alternative exit route.
The private equity and infrastructure fund markets are gearing up for a flurry of secondaries investing with an estimated $61bn deployment target, according to secondaries advisory firm Cebile Capital.

Unquote and Inframation have delved into seven of the largest funds from the sample, with a summary of the assets still in portfolios. Click on each fund for a detailed profile (including fund terms, investments and LPs) on Unquote Data or Inframation Data; you can also click on each portfolio company for all the latest available M&A and bolt-on intel on Mergermarket.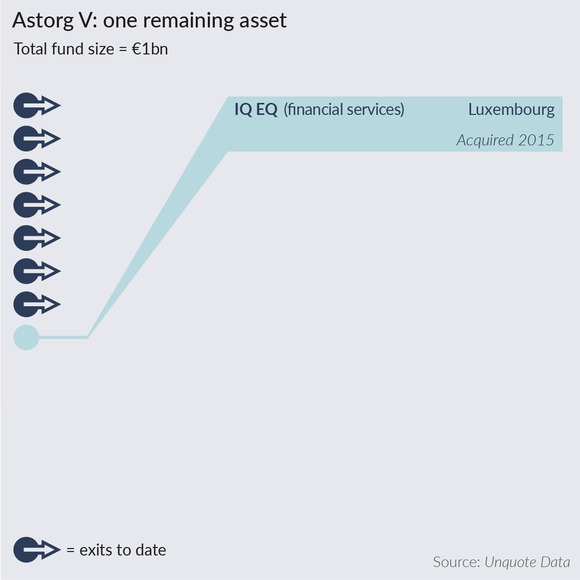 Closed on: €1.05bn, April 2011
Lifespan and extensions: 10+1+1
EV range: €200-600m
Sector preferences: industrials, healthcare, software, business services
Assets remaining: one out of eight investments
Having closed on its €1.05bn hard-cap in early 2011, Astorg V ended up making eight investments, including connectors business Microconnections (eventually sold to CVC for a reported €1.5bn), chemicals company Kerneos (sold for €880m) and Italian belts and pulleys manufacturer Gruppo Megadyne (sold to Partners Group for around €1bn).
Its last remaining asset is Luxembourg-headquartered fund administration service IQ-EQ (known originally as SSG), which Astorg bought from Belgian investment firm Cobepa in 2015. According to a press report by Buyout Insider, Astorg was contemplating options for a secondaries process for IQ-EQ (advised by Lazard) as of January 2020, with a mooted value of around €200-500m.
IQ-EQ is a global fund administrator, providing compliance and asset advice to a number of private equity funds, as well as global companies and family offices. It has more than $500bn in assets under administration.
It had sales of €83m at the time of Astorg's acquisition, but has been growing fast since then; in 2019, it combined SGG, First Names Group, Augentius, Iyer Practice and Viacert under one brand. At the start of this year, IQ-EQ acquired Constellation Advisers, a New York-based investment management service, following the acquisition of US-based Blue River Partners in mid-2020. The company now has a global workforce of more than 3,400 people across 23 jurisdictions.
Lion Capital Fund III (Lion Capital)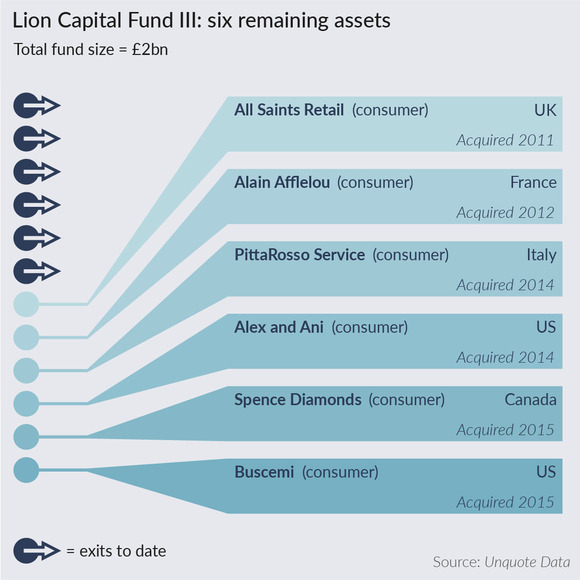 Closed on: £1.5bn, May 2013
Lifespan and extensions: 10+1+1
Sector preferences: consumer assets
Assets remaining: six out of 12 investments
According to Unquote Data, Lion Capital III was fully deployed as of mid-2016. Overall, Lion has exited six assets from the fund, but the vehicle still holds a further six investments, according to Unquote Data and Mergermarket.
Among these is optical chain Alain Afflelou, bought in 2012 for €800m. The GP and co-investor Caisse de Depot et Placement du Quebec (CDPQ) were keen to exit their investment in Afflelou back in 2018, French daily Le Figaro reported at the time. A process has not materialised since.
Lion also still holds Italian shoe retailer Pittarosso, acquired in 2014; Pittarosso was preparing to make a request for bankruptcy protection under the "concordato" procedure in May 2020, Italian-language daily Il Sole 24 Ore reported at the time.
Another retailer still in the portfolio is UK fashion shop AllSaints, which Lion Capital and Goode Partners bought in 2011 for around £100m, preventing it from going into administration. Lion was reported to be exploring a potential sale of the apparel brand back in 2016, according to a Bloomberg report at the time.
The other assets still in the portfolio are all northern American consumer businesses: Alex and Ani (bought in 2014), Spence Diamonds (2015) and Buscemi (2015).
Lion has already tapped the secondaries market for a standout asset of Lion Capital III: it led a restructuring for French frozen food retailer Picard Surgelés involving Picard in late 2020, according to press reports, transferring it to a continuation vehicle. Lion acquired the company from BC Partners for a reported €1.5bn in 2010.
Lion Capital did not return a request for comment.
Montagu IV (Montagu Private Equity)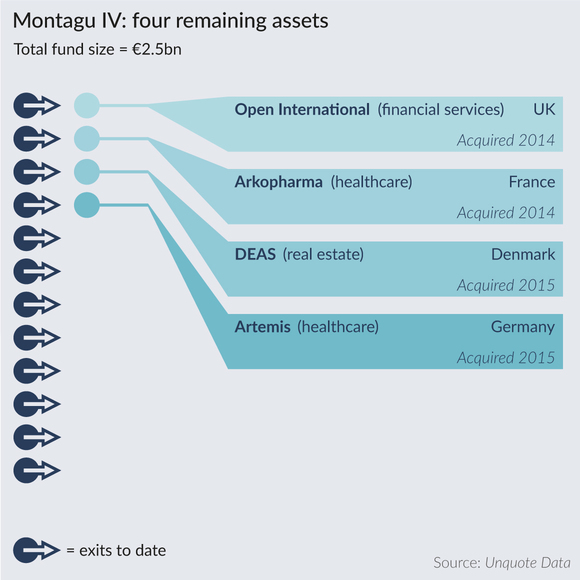 Closed on: €2.5bn, Apr 2011
Lifespan and extensions: 10+1+1
EV range: €100m-1bn
Sector preferences: healthcare, technology
Assets remaining: four out of 16 investments
Closed on its €2.5bn hard-cap in 2011, Montagu IV started investing in late 2010 and ultimately acquired 16 assets, reaching full deployment in 2017, according to Unquote Data.
The remaining four assets in the fund cover a range of underlying sectors. Montagu IV still holds French pharma company Arkopharma, bought from the founding family in 2014 for an estimated €300m. No sale process has materialised since.
Still in the healthcare space, Montagu acquired Artemis, a German provider of ophthalmic care, in 2015; the company has made 45 bolt-ons since then, according to the GP's website. A number of sector advisers told Mergermarket in 2019 they expected Artemis to come to market in 2020 with a price tag approaching €1bn, having more than doubled its EBITDA under Montagu's ownership. No process has materialised since.
Also in 2015, Montagu acquired Danish property management service Deas Holding from pension funds PKA and Sampension; the company had revenues of DKK 402m at the time. It notably went on to acquire Danish property-management peer Nordea Ejendomme from Nordea in August 2018 for an undisclosed amount. The GP put Deas on the market for a second time in less than two years in mid-2019, according to a report by Mergermarket at the time; Deas reported DKK 528m in revenues for 2018 and DKK 505m for 2017, the report noted. A sale still has not materialised.
On the software side, Montagu IV still holds Open International, a UK supplier of insurance-focused business software, which it bought in 2014 after having previously owned the company between 2006 and 2007. In April 2018, Mergermarket reported that Montagu kicked off a sale process for the business. IMs were distributed and first-round bids were expected in May 2018. A sale has not materialised.
Ergon Capital Partners III (Ergon Capital Partners)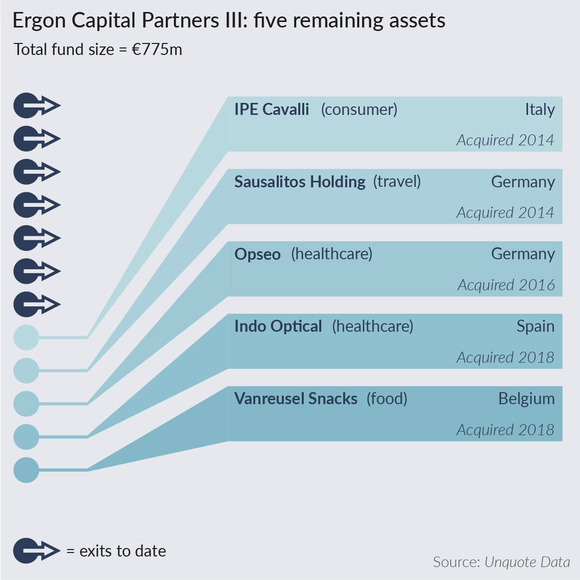 Closed on: €775m, Apr 2011
Lifespan and extensions: 10+1+1
Sector preferences: luxuries, speciality retail, industrials, manufacturing, healthcare, leisure, gastronomy
Assets remaining: five out of 12 investments
Ergon Capital closed its third fund, Ergon Capital Partners III (ECP III), in March 2010 on €775m. The fund went on to invest in Benelux, French, Italian, Spanish and Swiss mid-market companies, deploying equity tickets of €20-75m.
In March 2021, Ergon announced the establishment of a special purpose vehicle (SPV) for its portfolio company SVT, a Germany-based fire protection systems business that was hitherto in the portfolio of ECP III, as reported by Unquote. The continuation vehicle – notably backed by Pantheon Ventures, along with some LPs in Ergon's third fund – acquired the stake in SVT held by ECP III, through which Ergon invested in SVT in November 2017.
Remaining assets include Italian furniture business IPE Visionnaire. In November last year, Italian-language daily Il Sole 24 Ore reported that Ergon could put Visionnaire up for sale in early 2021; the unsourced report said that Ergon had been looking to sell Visionnaire in 2019 but the Covid-19 pandemic put the plans on hold. The item claimed that Ergon was re-examining the dossier as the economy returns to normal.
In 2018, German daily Handelsblatt cited company Chief Christoph Heidt who said he could imagine Ergon Capital opening talks with potential buyers in 2019 for Sausalitos Holdings, another ECP III asset; the GP bought the German restaurant and bar chain from EQT in 2014. No process has materialised since.
Other assets still in the portfolio of ECP III include healthcare businesses Opseo and Indo Optical, as well as snack producer Vanreusel Snacks.
Ergon Capital Partners did not return a request for comment.
Apax France VIII (Apax Partners)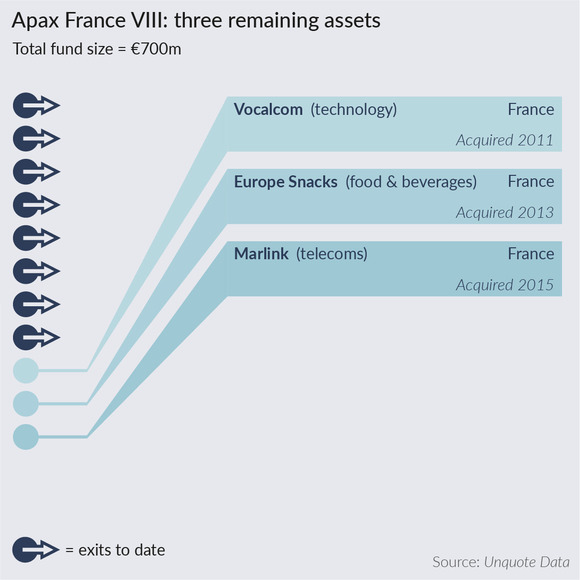 Closed on: €700m, Jun 2011
Lifespan and extensions: 10+1+1
Sector preferences: media, retail, consumer, healthcare, IT, telecommunications, business services, financial services
Assets remaining: three out of 11 investments
France-based Apax Partners closed Apax France VIII on €700m in June 2011; the fund approached full deployment by 2016, according to Unquote Data, having made 13 platform investments in the space of five years.
One remaining asset, satellite company Marlink, could see a realisation soon. The company has widened its sale process to include financial sponsors after ending informal takeover talks with Inmarsat, Mergermarket reported on 12 May. Owner Apax Partners, advised by BNP Paribas and Goldman Sachs, has reached out to private equity and infrastructure investors in recent weeks to gauge interest in the business. Indicative offers are due between the end of the month and early June. Marlink is being marketed based on EBITDA of $125m and revenues in the region of $500m.
Another asset left in the portfolio is Europe Snacks, bought in 2013. In July 2019, Capital Finance reported that Europe Snacks' sale process had been postponed. Lazard was mandated as sell-side adviser in 2018. Europe Snacks had turnover of €350m and EBITDA of €51m in 2018. Apax Partners had held exclusive talks with CapVest, which dropped out post due diligence, according to the report. No sale has materialised since.
The third asset remaining is Vocalcom, a French developer of call centre software bought in 2011. Although the value of the deal was not disclosed, Unquote reported at the time that the company's enterprise value was said to be in the lower end of Apax's target range of €100m-1bn. In early 2020, the company sold its subsidiary Opportunity, a SaaS platform for customer interaction management, to its management team, PE firm Omnes Capital and insurance company MACSF. News portal Capital Finance reported that the transaction valued the company at €35m.
InfraRed Infrastructure Fund III (InfraRed)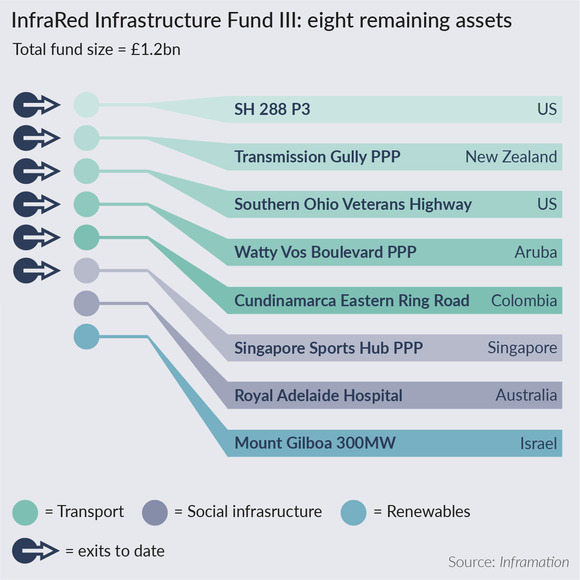 Closed on: £1.2bn
Sectors: infrastructure, energy
Assets remaining: eight out of 14 investments
Previous buyers: Axa IM & Crédit Agricole Assurances, APG & TRIG
InfraRed closed InfraRed Infrastructure Fund III on £1.2bn in 2011, with a long list of LPs from Asia, Europe and North America.
According to a spokesperson for the fund, it has sold six assets and has eight assets remaining. All eight assets are located outside Europe, mainly in North and South America and Asia, and road concessions dominate the group.
InfraRed's first investment in Latin America is one of the road assets: the Cundinamarca Eastern Ring Road in Colombia, which is part of the country's troubled 4G roads programme. InfraRed invested $60m for a 50% stake in the project in 2016, according to Inframation data.
The fund also includes another Latin American investment: an 85% stake for around $15m in Watty Vos Boulevard PPP in Aruba.
The project has a 22-year concession, and the Colombian road has a 25-year concession, which means revenue on both schemes extends almost up to 2040.
InfraRed also used the fund to acquire a 26% stake for around $83m in the much larger SH-288 highway P3 in Texas, which holds a concession until 2068, in 2016. The fund's other North America road asset – a 40% stake in Ohio's Portsmouth Bypass, acquired for $19.5m in 2015 – has a concession in 2050.
The final road still held in the fund is New Zealand's troubled Transmission Gully PPP. It was due to be completed last year but has suffered a number of delays – including due to construction halts during the height of Covid-19 restrictions last year – and a AUD 400m cost blowout, a large part of which the NZ government has had to stump up despite risks supposedly being transferred to the SPV. The fund took a 40% stake in the road for around $75m in 2014.
The three remaining assets held by the fund comprise larger investments in the Singapore Sports Hub; a stake in Australia's Royal Adelaide Hospital; and an Israeli hydropower project.


Asper Renewable Power Partners Fund II (Asper Investment Management)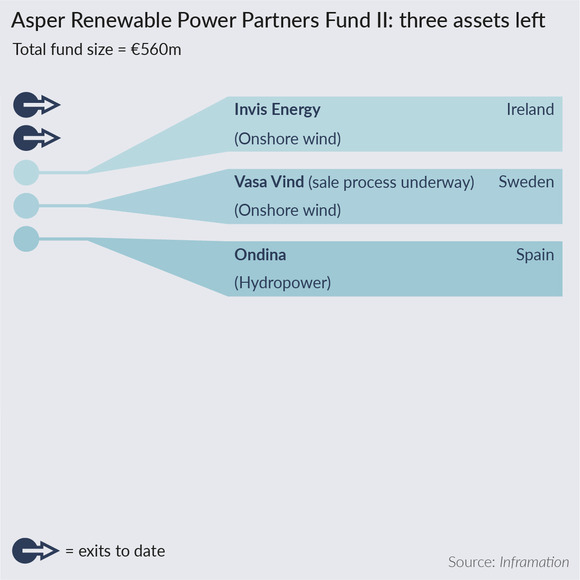 Closed on: €560m
Sectors: renewable energy
Assets remaining: three out of five investments
Previous buyers: APG, Solor Bioenergi
In 2017, London-based private equity firm Hg span out its renewable energy infrastructure investment business to Asper Investment Management, who replaced it as manager of its Renewable Power Partners Fund II.
Fund activity is very much live after Asper launched a sale of its Swedish wind power platform Vasa Vind in May.
Vasa is a wind power platform established in 2013 with 1 GW of onshore wind projects at various stages of development requiring €850m of capex, including the 300-500 MW late development-stage Hällberget project in northern Sweden, one of the largest in the country. Asper is in talks with financial investors active in the Nordic region and strategic players, and has previously sold wind farms to Dutch pension fund APG.
According to Inframation, the majority of the fund's other investments are located in Ireland, and comprise onshore wind farms of between 25 MW and 65 MW in size. According to a source at Asper, these assets are held in Asper's Invis Energy platform and it currently holds stakes in 10 wind farms.
Invis operates around 11% of Ireland's installed wind capacity and holds at least three corporate power purchase agreements with Amazon, as of August 2020. Despite the maturity of the fund, Invis will continue to develop renewable energy projects in Ireland, the source said.
The value of two renewable energy assets in Spain was written down by Hg in 2014 following the government's decision to cut subsidies to the power plants. Mercurio, a portfolio of seven solar power plants that it began building in 2008, has since been sold. Ondina, a portfolio of 34 hydro power plants of around 130 MW in total, is still owned by this legacy Hg fund.

Update (26/05/2021): this article was updated to reflect the fact that Montagu IV still holds four assets, and not three as previously stated.
Back to Top