Holding periods shorten as divestment activity ramps up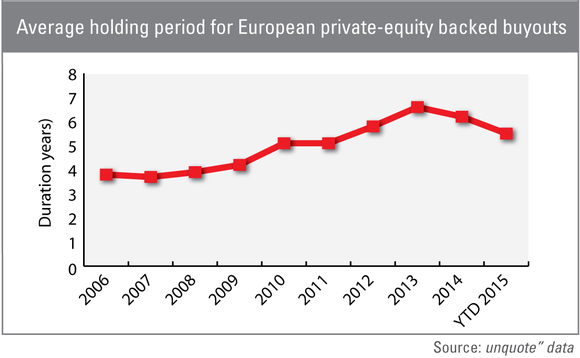 Analysing European buyouts exited in the first half of 2015 reveals that holding periods are almost back to historical standards – but GPs are clearing their portfolios quicker in some markets than in others. Greg Gille reports
"Our favourite holding period is forever," Warren Buffett once said. While private equity firms can't afford this luxury by definition, the tough exit environment in the immediate post-crisis years certainly put paid to the industry standard holding period of around five years. A look at unquote's proprietary activity database shows a record high average holding period of 6.6 years for private equity-backed buyouts exited in 2013. In fact, the average had been rising steadily from 2008 onwards, increasing by nearly three years between 2007 and 2013.*
Last year was a step in the right direction, with greater appetite on the buy side from funds and corporates, as well as the exceptionally busy IPO timetable seen in the first half of 2014, conspiring to bring the average holding period for buyouts back down to 6.2 years.
This trend has thankfully continued in 2015 so far, mirroring the growing gap between capital calls and distributions as GPs remain busy winding down older portfolios. Additionally, private equity houses are starting to realise investments made in the post-2010 recovery years. Buyout investments exited in the first five months of 2015 were acquired 5.5 years prior on average, according to unquote" data, a difference of almost a full year compared with assets sold in 2013.
The first half of this year has indeed seen a number of assets sold following a remarkably short holding period, contributing to the overall decrease. The purchase of Dublin-based CJ Fallon by US private equity firm Levine Leichtman Capital Partners, for instance, allowed previous backer Lonsdale Capital Partners to exit after less than two years at the helm. Over in France, Sagard acquired air transportation equipment group Alvest for an estimated €250-300m less than two-and-a-half years after LBO France bought it from Ardian.
Several assets spent even less time in GPs' portfolios: Nazca Private Equity, for instance, sold Spanish ceramic tiles company Fritta to Investcorp in January, barely a year after acquiring it. While yesterday (15 June), H2 Equity Partners announced it had sold British incinerator bottom ash recycling company Ballast Phoenix to Waterland Private Equity after a similarly short 12-month holding period.
Quick turnaround
Looking at the different European markets shows that although holding periods are shortening across the board, some countries in particular are seeing GPs shift portfolios companies more quickly. According to unquote" data, the average holding period has gone down from seven years for French assets sold in 2013 to 6.7 years in 2014, and an even five years so far this year. In Germany, the average holding period decreased from 5.9 years in 2013 to five years for YTD 2015.
Meanwhile, the average holding for assets sold in 2015 so far is slightly higher in the UK, at 5.3 years (which is still a significant decrease from the 6.9 years seen for assets sold in 2013). In the Nordic region, the figure stands at 5.9 years for assets sold in 2015, almost half a year above the European average.
Although GPs in some markets still appear to be busy realising older investments, the European industry as a whole has made noticeable progress in clearing the backlog of boom-years deals. According to unquote" data, 25% of buyouts completed in 2006 are still in private equity portfolios, while the proportion of unrealised 2007 deals stands at 35%. When unquote" ran similar statistics back in mid-2013, these percentages stood at 44% and 57%, respectively.
*Due to their growing contribution to distribution figures, as well as their limited impact on average holding periods, IPOs have been included in all calculations.
Back to Top