PE exits hit decade low in Q2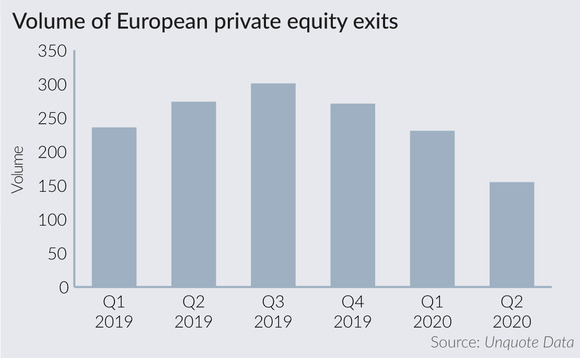 The volume of exits by private equity players across Europe fell by 43% year-on-year in Q2 2020 as the coronavirus crisis took hold, according to Unquote Data.
As was expected given the severity of the M&A drought from March onwards, PE players have been reluctant to launch new sale processes in Q2. Additionally, a number of ongoing processes have stalled until buyers are afforded more visibility on trading prospects in the wake of the pandemic.
Unquote recorded 155 sales of PE-backed assets across Europe in the second quarter, marking a low not seen since the global financial crisis. The lowest point recorded in the past decade was the 212 divestments announced in the third quarter of 2016, shortly after the result of the Brexit referendum in the UK.
The Q2 figure also marks a sharp drop (-43%) from the exit volume recorded across the similar period last year. It has to be noted that both Q4 2019 and Q1 2020 already showed exit activity trending downwards, with low historical volumes (see chart above). Accordingly, Q2 exit activity fell by a smaller margin (-32%) if comparing with Q1 2020 numbers.
April was the month displaying the sharpest drop, with activity rebounding in May (58 deals, up from 42 in April) before settling in June (52 deals). The May and June monthly figures still translate to historically low volumes.
Not all regions have been affected equally by the exits drought in the second quarter. Continental countries hit hardest and earliest by the pandemic saw an even sharper drop: exit activity fell by almost two thirds (65%) year-on-year in southern Europe in Q2, while France recorded a similar 60% decline.
Conversely, the UK saw a more modest (if still marked) decline in exit activity, with divestments falling by 23% compared with Q2 2019. The DACH region saw the smallest drop across Europe, with exit activity only falling by 6% year-on-year, albeit to low numbers as well if comparing with recent years.
The exit slowdown went hand-in-hand with reduced appetite on the buy-side from sponsors, too (with buyout dealflow declining by 47% year-on-year in Q2, according to preliminary figures from Unquote Data). Secondary buyouts were therefore less prominent as an exit type in Q2, going from 23% of all exits in Q2 2019 to 16% in Q2 2020. Trade sales held up well in relative terms, representing 47% of all exits in Q2 this year (versus 46% in Q2 2019).
Predictably, PE-backed assets going into receivership or administration were more plentiful in Q2 this year, leading that route to account for 10% of all Q2 exits, against 4% in the comparable period last year.

Largest PE exits of Q2 2020
source: Unquote Data
Back to Top