PE-backed IPOs on track for best year since 2017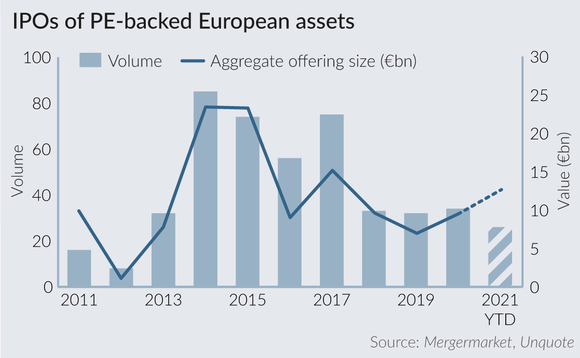 The volume of European PE-backed assets going public in 2021 is on track to reach a four-year high, despite recent setbacks for some high-profile listing candidates. Greg Gille reports
Unquote and Mergermarket had recorded 26 private equity portfolio companies listing this year as of 19 May, for a total offering volume approaching €12.7bn. That amount of flotations is therefore already nearing that seen for the whole of 2020 (34 listings), 2019 (34 listings) and 2018 (32 listings).
Should the pace of PE-backed companies going public stay on track for the rest of the year, 2021 could approach a level of IPO activity last seen in the 2014-2017 period, when Mergermarket recorded 72 PE-backed IPOs per year on average.
In any case, 2021 will most likely stand out for the size of its IPOs, with GPs listing a number of multi-billion assets so far.
Auto1, a used car trading platform that has received backing from VCs including Softbank and DN Capital, notably listed with a €7.9bn market cap in February. Permira-backed Dr Martens also listed in London in January with a £3.7bn market cap. More recently, EQT-backed enterprise software business Suse listed on the Frankfurt Stock Exchange with a market cap of more than €5bn.
Most recently, Swedish alternative milk maker Oatly Group - backed by Blackstone, among others - listed in a $10bn New York IPO. The share price surged by more than 30% during initial trading.
The combined offering size of this year's IPOs is already far ahead of 2020's €9.5bn. If more mega-IPOs of European PE-backed businesses take place before year-end, it is possible that the previous record of €23.4bn seen in 2014 could be met, if not exceeded.
Although the UK remains the country with the most buoyant IPO activity (seven listings so far this year), the Nordic region as a whole has also emerged as a hotbed of PE-backed assets hitting the exchanges, as reported by Unquote. So far, the region has been home to eight listings, with most taking place in Sweden. Germany has also seen its fair share of portfolio companies going public, with four IPOs recorded.
Best intentions
While M&A levels are going into overdrive this year – with correspondingly punchy multiple expectations for PE vendors – the pipeline of upcoming confirmed and potential IPOs is also looking strong.
Parts Holding Europe (PHE), a portfolio company of Bain Capital, announced in May that it had filed for an IPO on Euronext Paris. Other names associated with IPO plans in recent weeks have included Lithuanian marketplace Vinted, retail trading platform Interactive Investor, France-based web hosting service OVHCloud and UK-based restaurants chain Yo! Sushi.
Click here to access the latest European IPO Pipeline, which offers a list of IPO-related intelligence covered by Mergermarket over the past month
That said, recent weeks have also seen several planned IPOs going south, highlighting the inherent volatility in the exit route for PE. Car sales platform MeinAuto, a portfolio company of software and services investor Hg, recently postponed its IPO on the Frankfurt Stock Exchange. The IPO had been expected to take place on 12 May 2021. However, the company announced the postponement in a statement issued on 11 May, citing "currently adverse conditions for high-growth companies". MeinAuto was expected to be valued at around €2bn.
Trustly, a Nordic Capital-backed Swedish online banking payments provider that was also a keenly anticipated IPO candidate, announced in early May that it would abandon its plan for a listing in the second quarter, with no timeplan set for when the IPO will take place. The company announced in April that it would seek a listing, with media reports placing the expected valuation at nearly €8bn. The IPO has been shelved so the company can resolve any outstanding questions from a preliminary assessment by the Swedish Financial Supervisory Authority, Trustly reported in its Q1 2021 results.
Despite these setbacks, continued appetite on the public markets for standout PE portfolio companies should lead to IPOs (or at the very least dual-track processes) remaining an attractive option for PE in the coming weeks.
Back to Top