Berlin keeps Germany afloat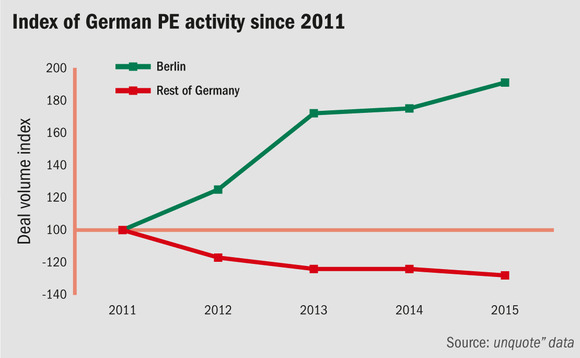 Berlin has been the rotor propelling the post-crisis recovery of Germany's private equity and venture capital activity. Vidur Sachdeva looks back at the evolution of the country's industry over the last five years
According to unquote" data, Germany has enjoyed a healthy trajectory of recovery since the onset of the global financial crisis: deal volume and value during 2015 were up 30% and 206% respectively compared to the lows of 2009. Furthermore, Germany's private equity and venture capital industries have remained relatively stable during the five years to the end of 2015. With 3,556 deals worth €264.8bn, the regional industry was home to the third highest volume and value of transactions in Europe during this time, falling behind only the UK and France.
However, deeper analysis reveals the country's performance has been buoyed by activity in just one city – Berlin. As can be seen in the chart above, activity in the city surged sharply during the five years to the end of 2015. Aggregate volume nearly doubled from 53 transactions in 2011 to 101 in 2015, while aggregate value jumped 78% from €10.2bn to €18.2bn.
On the other hand, the rest of Germany followed a worrying trend with deal volume declining during nearly every one of those those five years, down 28% from 223 deals in 2011 to 160 deals in 2015. Munich improved by just two deals (from 24 to 26 transactions), Hamburg declined by one deal (from 22 to 21 transactions), and Cologne dropped by four deals from 10 to six transactions.
It is the technology and consumer sectors in Berlin that have attracted the most attention from investors. Dealflow in the tech segment more than doubled from 29 deals in 2011 to 63 in 2015, while the consumer segment exactly doubled from 12 to 24 transactions. In fact, while aggregate volume in Berlin increased by 48 additional transactions during the five years to 2015, 45 of those deals (94%) were categorized as either technology or consumer deals. More specifically, dealflow within the software & computer services sub-sector and the general retailers sub-sector outpaced private equity activity in all other sub-sectors.
The following are five of the largest tech and consumer deals (with a disclosed value) that took place in Germany in the last five years:
1. Springer Science – €3.3bn; June 2013
EQT Partners and the Government of Singapore Investment Corporation (GIC) sold German media publisher Springer Science to BC Partners for €3.3bn in June 2013. The enterprise value included a performance-related component, which allowed EQT to benefit further from the development of the company. EQT and GIC remained as minority shareholders. BC Partners stated it aimed to expand Springer's core subscription business, as well as focus on open-access publishing and emerging markets. EQT acquired Springer from Candover and Cinven in 2009 in a buyout valued at €2.3bn. Singaporean sovereign wealth fund GIC also took a minority stake in the deal. A €1bn debt package was arranged and underwritten by Goldman Sachs International, Unicredit, Barclays Capital and Deutsche Bank.
2. Delivery Hero – $350m; September 2014
Online food delivery platform Delivery Hero raised $350m in a series-G round from Insight Venture Partners and Kite Ventures in September 2014, together with new investor Vostok Nafta. The funding round brought total investments in the company to $635m. The fresh capital enabled the business to expand its international operations, in particular in Germany and the UK. Of particular note was the involvement of Vostok Nafta, a Russian investment company listed on the Nasdaq stock exchange in Sweden that typically focuses on investments in Russia and countries from the former Soviet Union.
3. Generator Hostels – €150m; August 2013
Patron Capital invested €150m in hostel business Generator in August 2013 to support its acquisition of sites in Paris and Rome. At the time, the hostel was estimated to have 80 rooms and accommodate up to 264 guests. Since the investment, it has added a new location in Amsterdam and plans to open two more – the aforementioned site in Rome and another in Stockholm – by the end of 2016. Generator hostels focus on providing affordable accommodation for young travellers in urban locations. Patron partially exited the business in November 2013, selling a 23% stake to Invesco in exchange for €60m of growth capital.
4. Zalando – €140m; November 2013
In November 2013, TH Lee Putnam Ventures and Ontario Teachers' Pension Plan structured a growth capital deal and provided €140m to Zalando, an online fashion retailer. Both investors acquired a 2% stake each, with TH Lee Putnam Ventures securing shares for €72m. Founded in 2008 and based in Berlin, Zalando had a turnover of €809m in the six months prior to the investment round. It offers apparel and shoes in 13 European countries. The business listed on the Frankfurt Stock Exchange in October 2014, with a valuation of around €5.9bn.
5. HelloFresh – €110m; February 2015
Insight Venture Partners injected €10m into recipe and meal kit provider HelloFresh in February 2015 as part of a €110m funding round. Startup accelerator Rocket Internet committed the remaining €100m, while also buying secondary shares worth €30m. Following the transaction, HelloFresh's valuation rose to €623.8m from €131.2m, with Rocket Internet owning a 51.7% stake worth €322.4m. Since the €110m fundraising, HelloFresh has raised a further €75m from Baillie Gifford and begun exploring an IPO, which was postponed in November 2015 due to challenging market conditions.
Back to Top